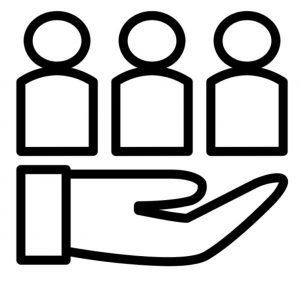 Ensuring responsibility of ESTIEM's internal actions
We want to offer tools for both LGs and individual ESTIEMers on how to organize events, travel and live their ESTIEM-life in a more sustainable way. We aim to find out how SER is perceived in ESTIEM and how we can improve to become an even more responsible organization.
We work through projects. Below you can see a couple of ongoing projects related to this area.
Carbon Footprint Compensation Partnership: As we don't have budget to compensate for emissions caused by for example travelling necessary for Central ESTIEM, we are looking for companies that could be willing to compensate us in exchange of sponsor visibility.
Map of LGs' Initiatives: Having a database containing all the initiatives done by any LG in terms of SER, with detailed information regarding each of them.

Having an impact to the outside world
We want to gather our potential as a big student organization to change and help the world around us. Our goal is to magnify ESTIEMers' voice in issues that they see important to affect. We promote climate action and equal opportunities for everyone.
Charity Promotion: Search, select and promote suitable charities for ESTIEMers.
Advocacy: Assessing the needs and opinions of ESTIEMers in societal and environmental topics. Gathering data, evaluating it and publishing it in impactful locations.

We want to provide fact-based information, ideas and inspiration for ESTIEMers that contribute to the caring of each other and the environment. Therefore we aim to always stay visible in all relevant channels, educate people and cultivate responsible mindsets.
SER-Tips: 

find, develop and spread SER-related ideas, tips and innovations related to for example green lifestyles, new products, or getting rid of stuff sustainably among ESTIEMers. Eye-catching, fact-based content regularly published in relevant channels.

Better planned travels:

Do research and spread knowledge on how to travel more sustainably. For example regarding mode of transportation, needed luggage, planning routes, contributing to local businesses etc.